Tips for not losing fitness while travelling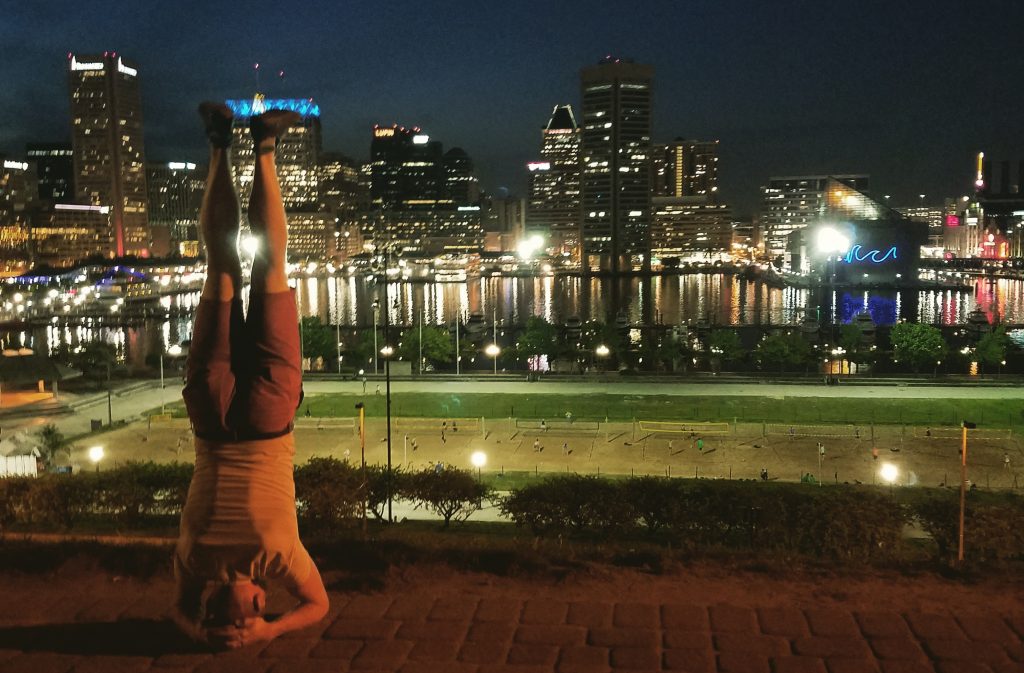 Me doing a head-stand after a long day of conference in Baltimore. Photo by Kevin Moll.As I wrote while getting back into racing, fitness is lost a lot quicker than it's gained. And as much as I love exploring a city by running that's unfortunately not enough when trying to maintain a competitive level of fitness. So what can you do while travelling for work or conferences? Here are a few tips that I've gathered from my own personal experience.
Timing
Your day schedule will be packed while on a work trip or conference. Likewise, your afternoons and evenings will be filled with networking, drinks or dinners with colleagues. So the only chance for a workout is usually in the morning. And to power through your long days at work, studies referenced by Runner's World shows that running help with brain power and staying sharp.
The hardest things with working out in the morning is, of course, getting out of bed. Late dinners and alcohol doesn't make it any easier. So I try hard making the most of dinners early in the evening and keeping alcohol to a minimum so that I can get to bed at a decent time.
Use your social circle
Conferences are by design very social. So there's a great chance that there are other people who also try to maintain their fitness while there. If you tweet or somehow else announce that you'll be in the gym or out on a run I can almost guarantee that you will find someone to share the workout with. Combining exercise, city exploration, networking and/or team building is such a great use of time that's hard to argue with.
If you're travelling around major cities, another fun social tip is to show up on any November Project workout. I'm looking forward to joining the New York City tribe on Wednesday morning!
Try something new
Many gyms or classes provide the ability for members to bring a friend for free. So you might be in luck if you have colleagues in the city that you're visiting. This is an excellent way to try new things and improve your fitness diversity! For example, a colleague here in New York City (where I'm currently for work) will get me into a pretty cool Swerve workout for free tomorrow!
Intervals, intervals, intervals!
Even if you make good use of your mornings, you simply won't have the same amount of time for working out as you have at home. Interval workouts are the best way to get the most out of limited time. What kind of intervals you do depends on your kind of workout, and what goals you have. For myself, if I'm outside running I tend to attempt intervals up random hills or stairs depending on the course. But if I'm lucky enough to have access to a stationary bike in the hotel gym, I'll do some hard 5 or 10 minute intervals to increase the workload.
If you're exercising with other like-minded people, intervals are also a good way to keep it engaging and fun while sharing a laugh pushing each other's limits in a friendly way. I simply love that kind of thing!