Cycling season review 2016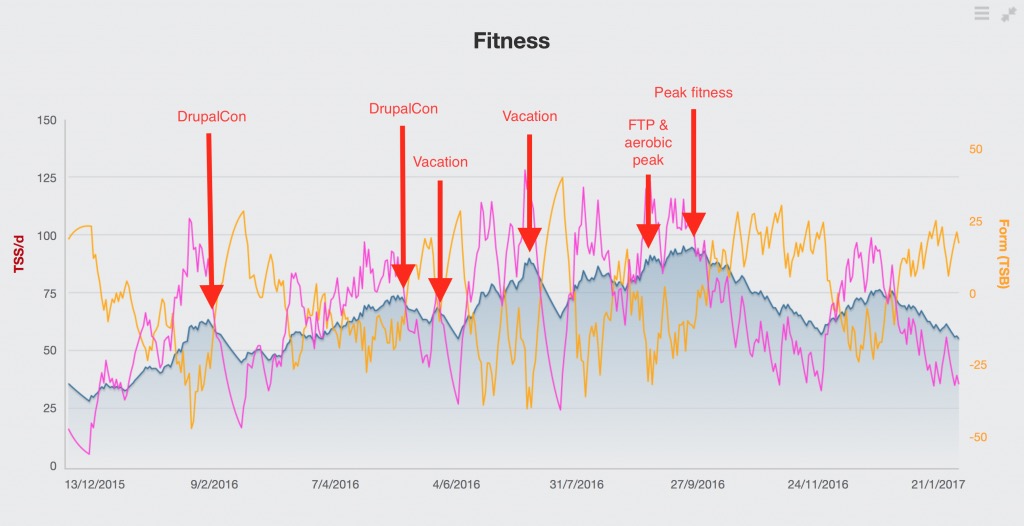 If cycling was measured in how much you learn, instead of the watts your legs put down, I definitely would have won the Tour de France in 2016!
Last year was all about learning about bike racing and getting into the cycling scene in London. I wanted to do as many races as time (and other commitments) permitted and I wanted to build a decent base fitness. My focus was on criterium racing.
Criterium racing
Many readers on this blog might not know what "criterium racing" is, so here goes the low-down.
Most people know cycle racing from Tour de France on TV. Riders on a road for 4-6 hours where the event culminates in a big "bunch sprint" and screaming commentators, or on a mountain top. Outstanding aerobic fitness (endurance) and a high power-to-weight ratio is what it takes for rider to excel at this type of racing.
Criterium racing, on the other hand, is quite different. These races are short, usually around 1-1.5 hour on a closed short circuit. Due to the shorter character of these races, they are a lot faster, closer and more aggressive. This is exactly the type of racing I love and live for! Anaerobic fitness (short intense intervals) and high sprint power is key to success. Good results are often achieved by instigating so called break-aways from the rest of the competitors. In order to do this you need a string 2-5 min power profile to open up that crucial gap and then be able to sustain the gap for a long period of time.
What is A Criterium, by Global Cycling Network
Learning new things
I really learned a lot about myself, my body and about training this past season. I did a lot of reading about training philosophies, I optimized my nutrition, but more importantly I rode a lot.
The best way to measure performance in cycling is by using a power meter. This device is usually built into the cranks or pedals and essentially measures how much power you output, measured in Watts. When training with power data you can measure and calculate several aspects of your performance:
Functional Threshold Power (FTP) is the maximum amount of power you can output for 60 minutes (or 95% of a 20 minute effort).
Training Stress Score (TSS) is a measure of how hard a workout is. Fitness can be measured in how much TSS you sustain over a period of days and weeks. As you train your fitness obviously goes up.
Training Stess Balance (TSB) is a measure of your form, i.e. how well you're able to perform at your current fitness level. As you train your form goes down because of fatigue in your body.
You can refer to the featured image at the top of this blog post for my performance chart from last year. The blue line is my accumulated TSS (fitness), the yellow line is my TSB (form) and the pink line is my fatigue. I've also pointed out some significant peaks and breaks in training throughout the year.
How did the season go?
My winter training started really well after I purchased an indoor turbo trainer that I spent a lot of quality time on. I had a really successful build while also racing a lot in the Full Gas Winter Circuit Series at LeeValley. Just before taking break for the first Drupal conference of the year I had a really successful performance at a beginner's category 4 race that earned me enough points to advance into category 3. In this race I learned that being aggressive and never giving up will earn you points. Break-aways seemed to be how I earned most points that winter.
The conference came as a well-deserved break and I came back fresh and started building fitness again for the early season. By the time May came around I had built enough confidence to do my first category 3 race. Racing in cat 3 was a whole different thing, and I loved it! Faster and closer racing with stronger and a bit more experienced riders. Awesome! Just a few days later I performed really well at Cyclopark before it was time for another Drupal conference and vacation in Japan.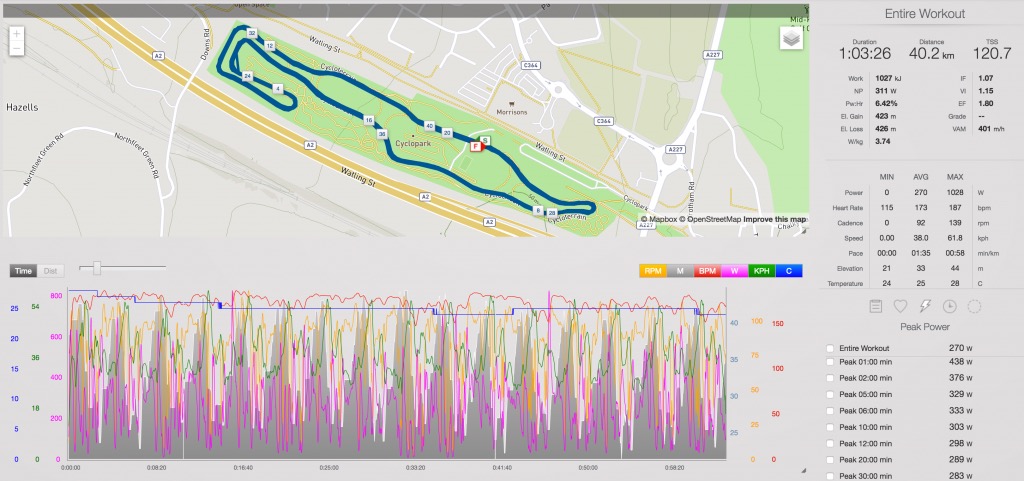 TrainigPeaks.com data from the category 3 race at Cyclopark
In June I did lots of good training, but no racing. I managed to build decent fitness before again leaving on vacation, this time to hike up Sweden's tallest mountain and attend my sister's lovely wedding. On the chart I lost lots of fitness during that break, but the hiking kept my legs fresh and I managed to carry good form into RideLondon 100 in which I put in another good performance averaging about 240W for 4.5 hours of riding (though excluding time stopped behind one of the unfortunate crashes).
In the late season I had loads of fun with my new training buddy Adam Nice and managed to build up to my year-best power peak while training in Fitou (where we now are renovating a summer house). I hit 325W for 20 minutes while climbing up Col Escassie, and 374W for 5 minutes while doing hill reps.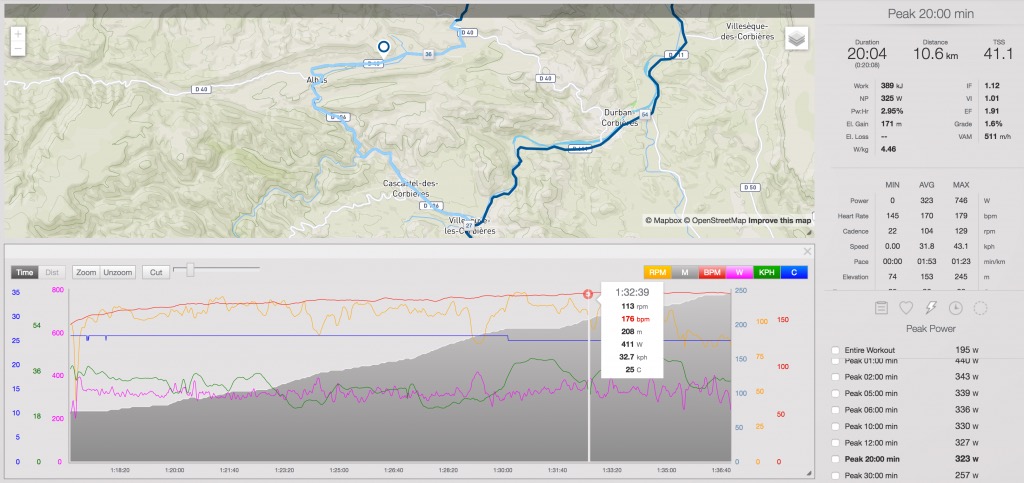 TrainingPeaks.com data from my strongest 20 minutes of my life (so far)
When coming back from Fitou I went on a winter break that consisted of lots of running and some body workouts. It was lovely to mix it up to find more motivation to get back on the bike again. I had big plans to return with a big block of winter training, but then this happened and I got involved in a traffic accident. And that threw me off quite a bit, as you can see with a steady decline of fitness in the performance chart at the top. I found inspiration and got back on my fixie bike towards the end of the year, but struggled again with motivation throughout January.
Life can throw you curve balls. So sometimes you've got to focus on more important things than your hobby, or even work. Taking care of your loved ones and staying healthy is always more important than anything else. And I'm happy I spent my winter doing that after everything that happened.
Sometime soon I'll write about my cycling goals for 2017 and how my training has gone so far. I'm feeling good and very excited about getting back into racing again!